The tears came even though I tried to push them away. I had just come home from a long day at work, filled with stressed-out, sick patients. At the end of the day, their cumulative pain weighed on my heart. I needed a way to process. But tears?
Yes!
As I've worked hard at understanding emotions, becoming "emotionally intelligent" as some call it, I realize that I have to let myself feel what I feel.
Of course I felt sad on this day. So very hard to see people in need whom you can't help. I let myself cry. I lamented. That powerful word, according to the Miriam-Webster Dictionary means "to express sorrow, mourning, or regret for (often demonstratively)."
I've learned over the past decade or so that sorrow, grief, lament does good work in my heart. I've learned to embrace it rather than try to run from it by compartmentalizing, staying really busy, or stuffing the emotions for now and telling myself that I will deal with them later when I have more time and feel stronger.
I recently read a couple books that have helped me with all of this emotional work. (Yep, I'm an introvert and learn by reading and thinking.)
When I picked up The Emotionally Healthy Woman: Eight Things You Have to Quit to Change Your Life by Geri Scazzero and read about how she quit her church, of which her husband was the pastor, I knew I had to keep reading. This books describes the author's journey to own her emotions. She writes, "We must embrace the full range of our emotions, including the difficult and sometimes forbidden emotions of anger, sadness and fear." Really helpful book!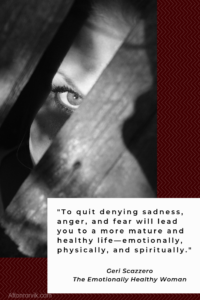 Aubrey Sampson's book The Louder Song: Listening for Hope in the Midst of Lament also talks about emotions related to suffering. She writes honestly about her journey with an auto-immune disease and learning the power of lament in the process. She explains:
. . . even in our darkest, most grievous laments there's hope—because we don't lament to a void. We lament to the God who wants our laments. As we lament, we join in the chorus of those who have gone before us—those who have wrestled with suffering's reality and come out, not unscathed, but still proclaiming God's goodness.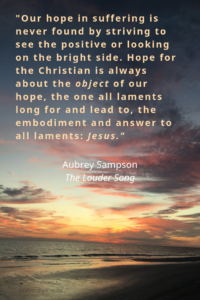 I've learned through seasons of deep sorrow that listening to worship music helps me. It pulls me back to remembering that God sees and hears and cares more deeply than I can even ever imagine.
And so after that long day at work, I worshiped and handed to God those people in distress, asking Him to do for them what I could not.
For those of you on the journey of grieving, I pray that you will embrace the process of lament and let it do its good work in your soul. I also pray that you will practice patience with yourself as you embark on this journey that has so many twists and turns.
I have a copy of Aubrey's great book The Louder Song and would love to give it away to one of you. Just email me at Stormsistersconnection@gmail.com and I'll do a random drawing.
What I'm Watching
Tidying Up with Marie Kondo on Netflix.
My husband loves to organize. I don't. I asked him to watch this show with me so that I could understand more about what he loves. After a few episodes, I felt equipped and inspired to tackle my dresser and then my closet and then my linen closet. At some point I must tackle my office and all my book-friends. But I'm gaining confidence and enthusiasm. And, yep, John is pretty thrilled. J
Healthy Motion: Pilates for Everyone with Lee Everett
I've started doing this DVD series and my back is already feeling better. Lee uses three students at various levels so you can identify with one of them and follow that person. I identify with the old guy. Not sure what that says about me. Either that I'm old or that I'm really stiff. Maybe both.
What I'm Coloring
The Illustrated Words of Jesus for Women: A Daily Devotional
This delightful book makes a great way to start the morning. A little bit of coloring, some inspiring quotes, Scripture passages, and some thought-provoking words, written by my friend Carolyn Larsen.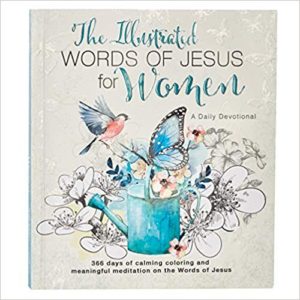 What I'm Looking Forward to
The day I can put away my long underwear and really thick mittens.
Sharla will help us learn to find focus by connecting to God, truly paying attention to what is essential, prioritizing each day, finding focus in work, making important choices, defeating the distractions of technology, and finding rest in our hectic world.
I've seen a bit of this in the works and really liked it. Wanna join us?
Responses from publishers who recently received a copy of my proposal and sample chapters for book #2. If you're the praying type, please join me in praying that God will give this book wings to get where it needs to go.
Cheering you on as you seek to live connected!