What do you do when the winter winds howl and outside temperatures hover WAY below zero?

We decided to watch a few episodes of the Netflix sensation Tidying Up.
Something about this new show intrigued me. Maybe I hoped for some insight into my husband. Many of you know that my husband comes by "tidying" naturally. I do think it comes standard with the Norwegian gene pool. I, however, do NOT come by tidying naturally. And my gene pool tends more toward "collector."
And so we watched. And soon I felt compelled to try "tidying."
I knew I should tackle my office. It had become a jumble of stacked books. I realized I had started avoiding working in it. I also realized that somehow I felt buried by the weight of these books.
So on another bitterly cold day, I started the task and began to pull each book off the shelf as Marie Kondo recommends. I piled them all over the hallway,
I discovered college text books, books I had edited years ago, some of my dad's poetry anthologies, and some of my mom's medieval history books, and even books from a college professor turned friend.
Over and over I kept returning to Marie's question: "What sparks joy?" At first I didn't even know. I felt I had to honor and respect the wishes and loves of others by hanging on to their books. Even if I never read their books. Even if I do not share their great loves, their joys. And that, I suddenly realized, described the hard behind my book-tidying.
So as I carried and sorted I prayed out loud. "Lord, help me to find and hang on to what I love, to embrace the gifts and loves you have given me, not to focus on carrying the weight of other people's great loves."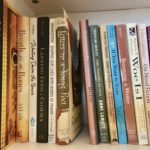 Then I discovered several books on words, including my old high school (!) grammar book. (Yes, I was a word-nerd even then.) My joy! Not my dad's favorites or my mom's or my professor's. I assembled the books on a prominent shelf. My joy!
I also gathered together books written by my Redbud Writer's Guild and placed them where I see them every day. As I walk into my office, I spot those books and smile and think, "You go, Girls!"

I now have empty spaces on my shelves. That space speaks of possibility, of new discoveries, of future joy.
Much to my surprise, in the clearing of my shelves, I also cleared some ground in my soul as I let go of other people's loves and joys and identified my own, embracing how God wired me. My soul now has space. Space that speaks of possibility, of new discoveries, of future joy. Space created by letting go of guilt.
Some of you, no doubt, can easily identify what brings you joy. But perhaps some of you, like me, let other people's loves and opinions and suggestions weigh you down like a room full of large books sitting on your heart. May I simply encourage you that what seems so very hard—tidying up—leads to the gift of space in your life? Space to grow. Space to breathe. Space to celebrate. Space to live in gratitude to God.
Cheering you on as you seek to live connected, whether you tidy or not!
P.S. As I tidied my office, I put aside a stack of books to give away on the blog this year. This month I would like to give away a set of two books: revised and abridged versions of The Brothers Karamazov and The Idiot. I helped produce these books when I worked at eChristian, and really enjoyed them. They are edited by Thomas R. Beyer, Jr., a Professor at Middlebury College, who specializes in Russian language and literature.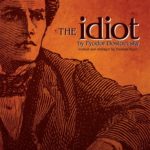 So, email me at stormsistersconnection@gmail.com. I'll enter you into a random drawing. And know that I always love to hear from you!
What I'm Reading:
"By an act of faith, Abraham said yes to God's call to travel to an unknown place that would become his home. When he left he had no idea where he was going."

Hebrews 11:8, MSG
What I'm Cooking: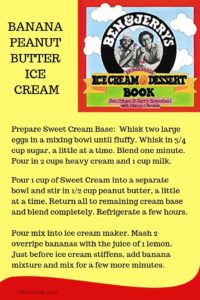 What I'm Looking Forward to:
Eating more of this ice cream!
Playing some of the piano music I rediscovered while tidying my music collection.
Finding a new part-time job.
Hearing from publishers about book #2.
Upcoming visits with family and friends.