I struggle to find words these days and find that I lean into some of my favorite words from my favorite book.
I remember my affliction and my wandering,
the bitterness and the gall.
I well remember them,
and my soul is downcast within me.
Yet this I call to mind
and therefore I have hope:

Because of the Lord's great love we are not consumed,
for his compassions never fail.
They are new every morning;
great is your faithfulness.
I say to myself, "The Lord is my portion;
therefore I will wait for him."

The Lord is good to those whose hope is in him,
to the one who seeks him;
it is good to wait quietly
for the salvation of the Lord.

Lamentations 3:19-26, NIV
Rather than stick to the plan of writing about the word humble this month, I want to share with you some resources that I hope will encourage you on your unique virus-journey. Please know that I would LOVE to hear from you and how you are coping. Feel free to email me: stormsistersconnection@gmail.com
For Listening
John Michael Talbot's album Signatures. At the moment this album, sung by an aging monk, has become my virus soundtrack. Beautiful, peaceful, soothing! I listen every morning and try to hand to God all that swirls.
Ann Kroeker, Writing Coach Podcast, Episode 223: "One Thing Writers Can Do in a Pandemic: Document the Days." This podcast, aimed at writers, really speaks to all of us as we live through this time that will forever change our world. After listening to this podcast, I pulled out a journal and started to document my days. Join me? What is your unique story?
For Coloring
I find that I have to work at not dwelling in the land of "everything is going wrong!" Using this calendar helps me to find gratitude and perspective. Each day I write or draw one thing for which I feel grateful. I always find something! I have a printable PDF on my Facebook page.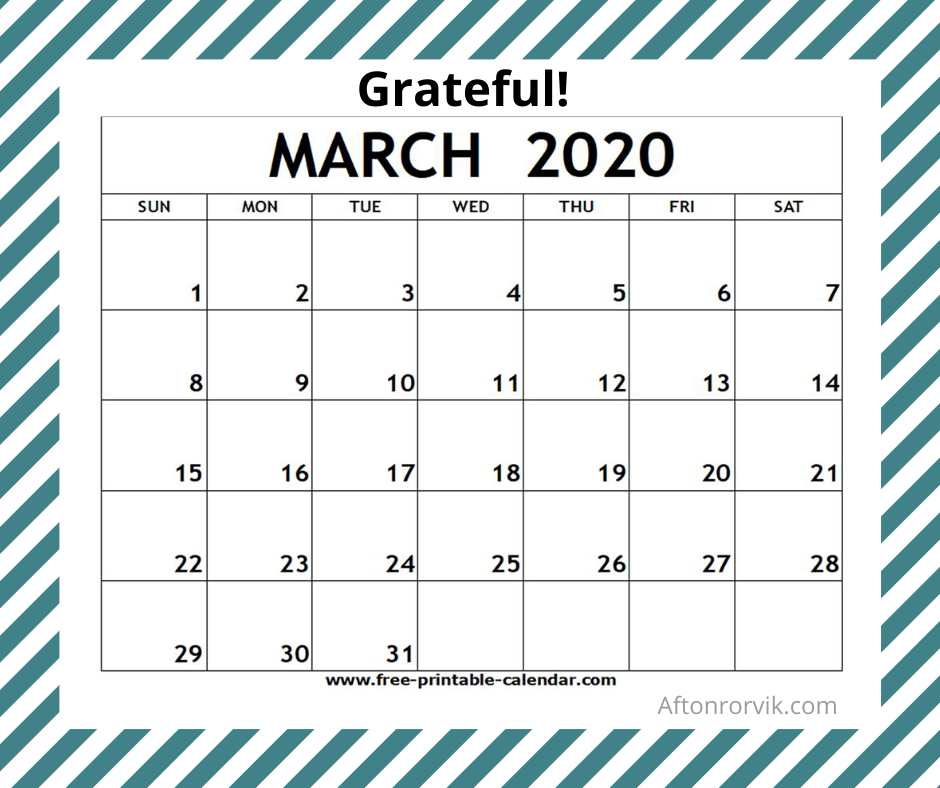 For Reading
You Version Reading Plans and Devotionals. I have the YouVersion App on my phone. You can download it here. I've started reading this short, daily plan "From Anxiety to Peace." You can choose from lots of other daily reading plans and even set up notification reminders and share a plan with friends. So good to have something in my head and heart other than virus news!
For Exercising
I just discovered this article, "Stuck Inside? 27 Experts Share Tips on the #1 Way You can Stay Active Indoors" by blogger Shawna Newman. It offers practical and fun ideas, including dance parties. 🙂
For Laughing
Michael Bruening, an associate professor of history and political science at Missouri University of Science and Technology, created this funny video about adjusting suddenly to teaching online. I know so many of you find yourselves in a new educational space.
Cheering you on as you seek to live connected even in this age of social distancing!