For most of 2020 we've tried to stay distant from people in order to keep each other safe from this crazy COVID-19 virus. We feel weary. Our hearts ache from not sharing with each other the gift of showing up.
Even we introverts miss the real-life conversations over tea or dinner out. Really! The other day I blurted out to John, my extroverted husband, "I miss people!" I do. I want to be WITH people. Around my dining room table. At a friend's kitchen counter. At a tea shop. On a road trip. At an outlet mall. In a restaurant. In a prayer circle.
These days I think often of a question we use here in the Midwest: "Do you want to come with?" That question used to drive me crazy because it ended with a preposition(!) Lately, I've come to cherish it precisely because it ends with the word with.
Together. Not alone. Not socially distanced. Not afraid of a virus. Connected.
WITH.
And when I think about Christmas this year, I find myself drawn repeatedly toward another word: Immanuel—God WITH us.
This year, more than any other Christmas, I take great comfort in knowing that God so wanted to show us His love that He sent Jesus to earth. God showed up in human form. He wanted to be WITH us. Still does.
This Christmas I pray that we may all discover anew God's gift of Immanuel even as we mourn the loss of being WITH the people we hold dear.
Being WITH Resources
These things help me focus on Immanuel, God WITH us. Perhaps they will help you too.
Prayer of Examen—This prayer, developed by St. Ignatius of Loyola in the sixteenth century, focuses on noticing God's presence in daily life. I often practice a very simple version of it at the end of a day. As I begin the process of trying to sleep, I go back in my mind to every event and conversation in the day and ask myself, "How did God show up in this situation?" The process helps me let go of the day, particularly the hard bits, as I imagine God walking through them WITH me.
"O Little Town of Bethlehem" sung by Fernando Ortega. For some reason, the musical setting of this version of an old favorite makes me pay attention to the words. And I often catch myself singing along. I return to the song over and over throughout the day and thank God for that night long ago in Bethlehem when Jesus came to be WITH us. Oh, the calm of worship!
God's Relentless Love by Sharla Fritz For several years, I have met once a month with my friend Sharla to swap writing. I read her chapters-in-process, and she reads mine. I've watched her latest book take shape from chapter one. And her book has reminded me of something simple: God loves us. Relentlessly. Sharla develops this theme by looking at the biblical book of Hosea. And she does is so well with a delightful mix of modern stories, biblical history, and well-written, thoughtful study questions. I plan to dive into the study portion of this book in January. I know that in that dark, cold month I will need reminders that God sees and cares and loves. I will need to remember that no matter the weather or the state of the pandemic God is WITH me.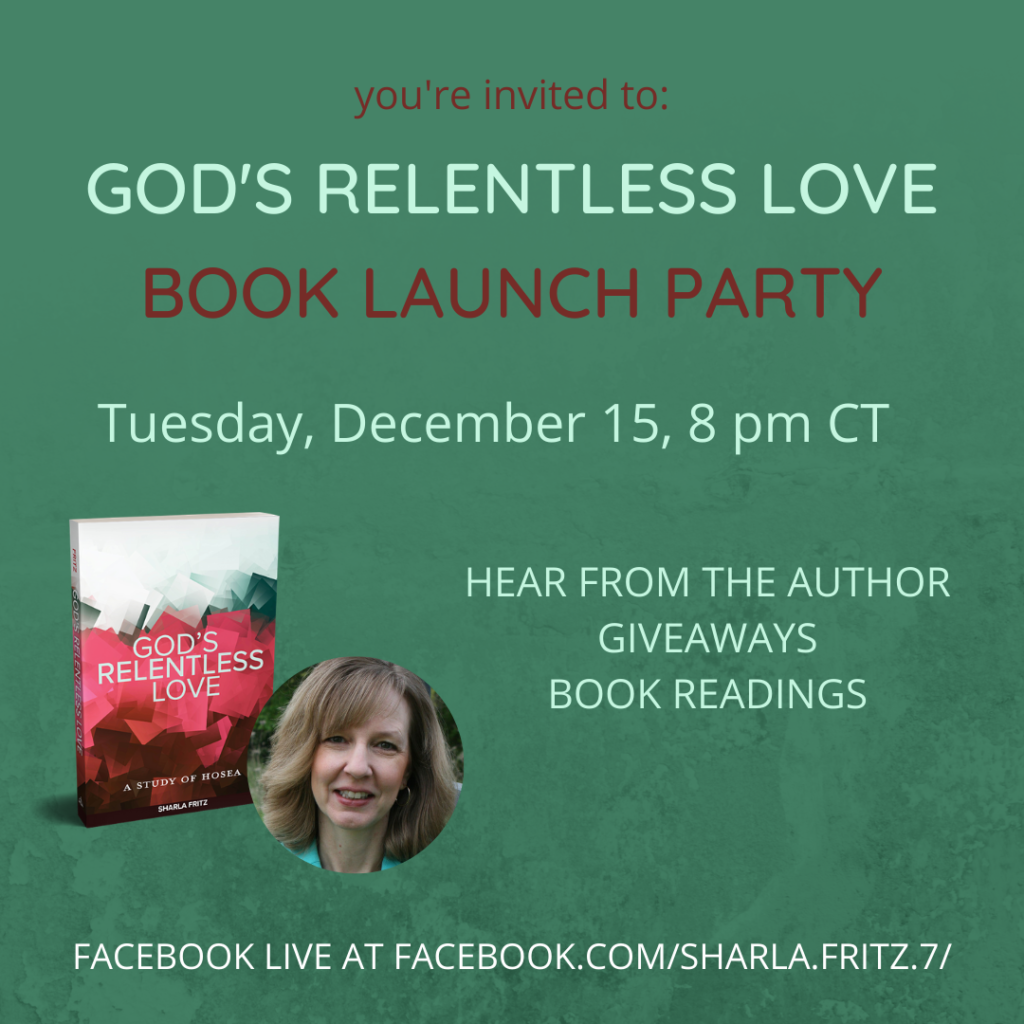 I would love to have you meet my friend Sharla and hear about her new book. Join us on FaceBook Tuesday night December 15th at 8 pm CST. I'll be there helping with some fun giveaways.
Cheering you on as you seek to live connected in this crazy world of ours.