Five months ago, we sold our house and left the community where we had lived for decades. Then we traveled 1,000 miles, loaded our possessions into a storage locker, and settled into a furnished, two-bedroom apartment in a small, semi-rural town in Colorado.
We began to understand a new rhythm of life that involved fields of hay and corn, tractors, cows, sheep, and glorious mountains beckoning us to hike.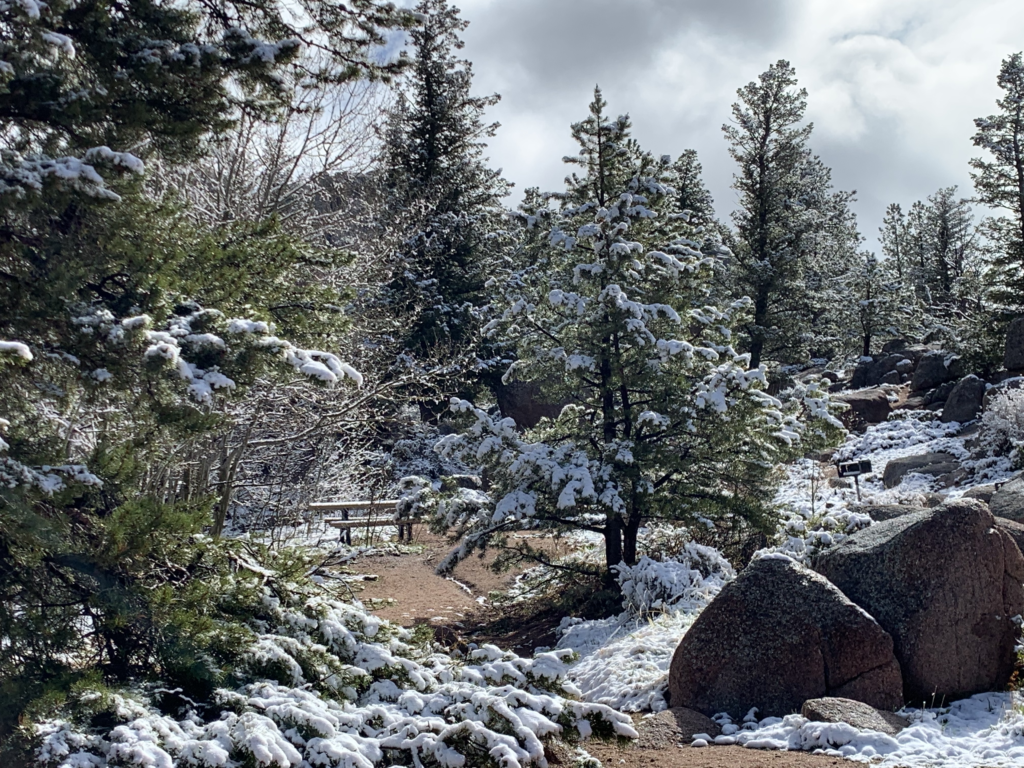 And we began to meet new people. Lots of them. People in our apartment complex. People at church. People I had known when I lived in this state as a child and a teenager. We also began to get together with family members who now live an hour or less from us instead of a two-day car ride.
All of this stretches my introverted self. My extroverted husband, on the other hand, finds great joy. He gains energy from time with other people and loves the buzz of multiple conversations. I wear out after several back-to-back conversations.
And, yet, I love people. Truly.
I do not concur with the sentiment, "I'm an introvert. Go away!" Rather, I welcome the new (and renewed) connections here in Colorado, knowing how much I will learn from others. And I know without a doubt that I live better when I live connected to people.
I also know that I honor God when I live connected to people by acting as His hands and feet.
So . . . I seek to live connected here in this new place. But I also seek to own my introverted personality. Challenging!
These five tips have helped me in the relocation process. Perhaps they will also help you or help you understand an introverted loved one who is relocating (including students going off to college.)
1. Schedule quiet time for myself before and after social gatherings.
Part of owning my introverted personality has included acknowledging that I refuel with quiet. Before and after a people-intensive event, I need to gulp quiet. I come alive again after these gulps. On the days when I try to press on and ignore my need for quiet, I often get exhausted and crabby. Life just begins to feel "too much." And then no one enjoys my company.
My quiet time of refueling before an event always involves prayer: "Lord, help me navigate this event. Help me to have the courage to connect. Give me your eyes to see and your ears to hear." After an event, I pray my way back through the conversations and ask God to teach me through them and remind me of His good gifts within those relationships.
2. Pay attention to my emotional tank.
As I wrote in my book Living Connected: An Introvert's Guide to Friendship, I imagine my emotional tank with a warning system that looks like the gas tank indicator in a car. In the middle of an intense people-event, I try to make myself pause and examine my emotional tank gauge. Full? Half-full? Nearing empty? Orange indicator light? When I sense the tank draining, I try to slip away and take a few quiet moments to refuel. When I sense the orange indicator light flashing, I know that I must exit the event and take a significant refueling break. If I don't heed my emotional tank warning system, I will crash and burn and negatively affect the people around me.
3. Cut back on non-essential, emotionally-draining tasks, such as social media, in order to preserve emotional energy for face-to-face encounters.
During the months we have lived here in Colorado, I have eliminated several social media accounts and gone for weeks on end without using other accounts. I began to notice early in our time here that when I went on social media, I became easily overwhelmed. After just minutes, I began to feel my orange indicator light starting to blink. At first that puzzled me because these encounters did not occur in person. Finally, I began to understand that even social media requires emotional energy. And as an introvert, I have a limited supply of such energy.
For now, I need to spend emotional energy on the people I see face-to-face. Once we have settled, I know I will have more emotional energy and can add back in more time on social media.
4. Talk openly about my introversion.
Every time I mention my introversion in a group setting, I catch other people nodding their heads. I have discovered that by happily discussing the topic, I offer other introverts in the room the gift of normalizing introversion. By the way, research indicates that we introverts make up at least 1/3 to 1/2 of the population. That means we appear at every family gathering, corporate meeting, church Bible study, neighborhood barbecue . . .
By talking openly about my own introversion, I also seek to acknowledge and celebrate the other introverts in the room who found the courage to attend this people-event. I know the effort involved.
5. Believe in my introversion as a gift from God that helps me live connected.
Rather than yell at God for not wiring me as an extrovert who thrives in new situations, especially those that involve people, I have learned to thank God for giving me the gift of introversion. This personality gift helps me empathize and listen—both wonderful relationship-building tools. My introversion even helps me carry on meaningful conversations in a small group or one-on-one.
As I write this, I pray for you, Dear Reader, and the introverts you love. May we all continue to learn to embrace and celebrate God's good gift of introversion—even in the midst of relocation.
P.S. Thanks for your understanding as I step away from this blog for the immediate future in order to focus on getting settled in our new house. I know moving (again) will stretch me emotionally so I have decided to gift myself big gulps of quiet during this process and savor the empty space that will come from not blogging.