I don't really understand prayer.
When I started to pray during my teenage years, I borrowed words from the Psalms. I still often read the Bible, stop, and turn the words into a prayer. For example, one morning this week I read "If you think you know it all, you're a fool for sure; real survivors learn wisdom from others" (Proverbs 28:26, MSG). I borrowed these words to pray, "Dear Lord, help me not to assume I have all the answers. Help me to listen and learn from the wise people in my life."
Do my prayers change God's heart?
Do my prayers change my heart?
Do my prayers do things in this world far beyond what I can imagine?
Do my prayers help me cultivate a relationship with God, a friendship?
Praying for a Job
Since early this year I have prayed specifically about my job. (Some of you have joined me in that prayer.) I sensed change coming. I asked God to prepare me for the change and to provide for me in that change. I told him that I really liked my current job. I told him I didn't like change. I confessed my tendencies to dwell on the "what ifs" and asked him to help me live in the present. I admitted to God that I would love a part-time job with regular hours doing the same sort of thing I currently did—checking in patients for diagnostic imaging tests.
Months went by. My job as I knew it ended. I applied for almost a dozen other part-time jobs and received polite rejection emails. I felt discouraged. Then my boss called me back in to help out. I kept praying. "Lord, please intervene for me with a job."
Then the next month my boss asked me if I could fill in at another facility.
That office consisted of one desk and seven chairs at a building ten minutes from my home. Quiet infused this space. My heart sang.
By now, you've probably put together the pieces and figured out that I have a new job at this quiet facility. I officially transferred departments last week. Yep, I now have a part-time job with regular hours doing the same sort of thing I used to do—checking in patients for diagnostic imaging tests.
Maybe all of this could have happened randomly. But this job seems designed for me, orchestrated by someone who loves me and knew that I would thrive in quiet, someone who heard my honest words in prayer: "I would love a part-time job with regular hours doing the same sort of thing I currently do—checking in patients for diagnostic imaging tests."
Timothy Keller, in his book Prayer: Experiencing Awe and Intimacy with God, addresses a lot of the questions about prayer I mentioned earlier. And he says this, "God often waits to give a blessing until you have prayed for it. Why? Good things that we do not ask for will usually be interpreted by our hearts as the fruit of our own wisdom and diligence" (page 103).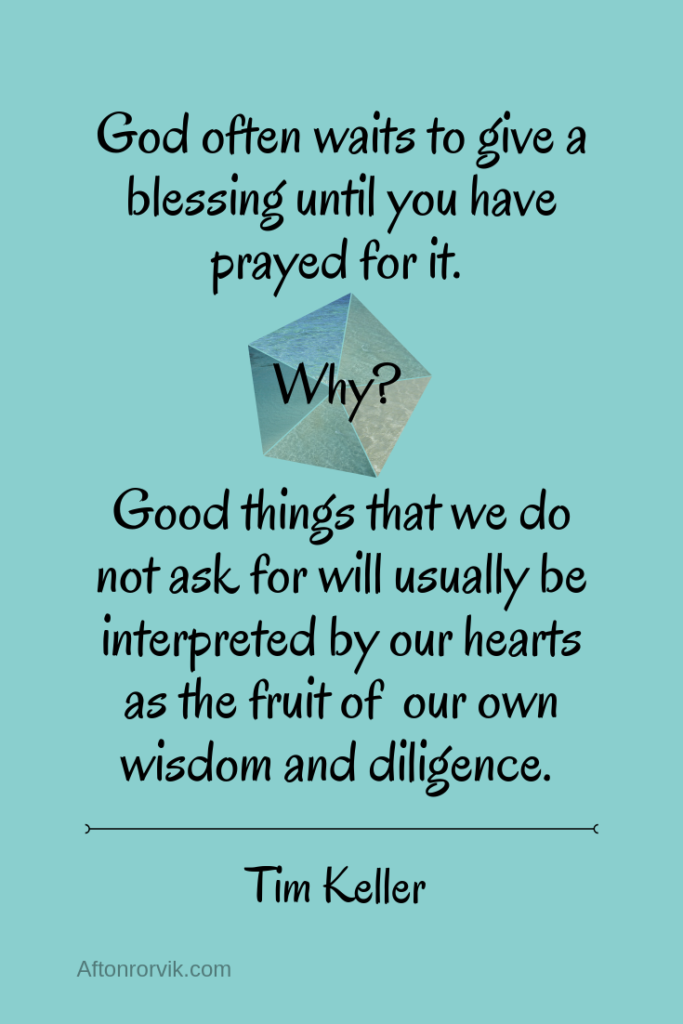 I could not, in my own wisdom and diligence, have provided this job for myself. In fact, this job did not even exist when I started looking for a new job.
Did God answer my prayer? YES!
May I encourage you to make prayer a part of your daily habit? Perhaps start by taking the words of the Lord's Prayer and turning them into your own prayer. Try putting a daily prayer appointment reminder in your phone. Try praying out loud in your car on the way to work (one of my favorite ways to pray).
If you haven't read Timothy Keller's book on Prayer, I encourage you to read it. He wrestles with some of the tough questions about prayer that we all have, but he also offers practical steps to learning to pray.
I still don't fully understand prayer, but this I do know: prayer matters.
Cheering you on as you seek to live connected.
What I'm Celebrating
We just threw a birthday bash for my mother-in-law. What a joy to see the residents in her independent living facility celebrate her. I marvel at the way she has aged with such an attitude of gratitude. That's how I want to age!
My friend Sharla Fritz has a new book coming out next week. Her book Enough for Now: Unpacking God's Sufficiency contains a mix of personal stories, teaching from the Bible, and questions to discuss or ponder on your own. I read this book as Sharla worked on it and found it really helpful. I want to share it with you so I'll send one of you a copy. Just comment on this blog or send me an email at stormsistersconnection@gmail.com. I hope to have Sharla here on the blog next month.
The winner of the book Unrealistic Expectationsfrom last month is Bridget Q. Congrats!
Where I'm Writing
Earlier this month I wrote a piece for the Redbud Post about why getting a job mattered so much to me in this empty-nest season of life. You can read "Doing One Thing That Scares Me" by clicking on this link.
And I wrote a short article on LinkedIn titled "Quiet in the Workplace." about how quiet matters at work, especially for introverts.
What I'm Watching
John and I watched a delightful movie about a dog: A Dog's Way Home. You fellow dog-lovers out there will really enjoy this.