So many words flying around these days. Angry words. Defensive words. Opinionated words. Divisive words. Shaming words.
Especially online.
I've hesitated to add my words to the fray so I've backed off a bit with blogging. I'll likely write something every other month.
And I've really wrestled with online media the past few months. Perhaps you have too. I want to stay connected (and as an author I should), but I find myself getting angry, anxious, and overwhelmed when I jump into the current sea of words online.
So I spent most of the month of September reading and thinking and praying about online words. And I want to share some of that with you. (Hang on. This will be a bit longer than most posts.)
I've asked myself some key questions.
First, how does my online presence help me to live connected?
I recently tried an experiment: I took all the social media apps off my phone.
Why?
I had noticed something about myself. When I had downtime and felt bored, I would pull out my phone and scroll aimlessly through Facebook. After ten minutes or so, I started to feel anxious and overwhelmed, but instead of getting off, I kept scrolling and reading and liking and commenting. After twenty minutes I felt crabby. So many words . . .
Not living well. Not living connected. Just living frustrated.
Then I started reading a book several friends recommended: Digital Minimalism: Choosing a Focused Life in a Noisy World by Cal Newport. In this well-written, well-researched book, Newport calls readers to develop a philosophy of social media rather than just turning to social media to assuage boredom.
Interestingly, he also advocates taking all the social media apps off your phone so that you have to choose to participate in social media.
Newport talks at length about how we should use social media rather than let it use us.
His book prompted me to ask myself: How does using social media help me live connected in real life?
I'm not sure it does in and of itself. It can, however, serve as a jumping-off point. I can start a one-on-one conversation with someone, based on a post or photo I saw online. I can pray for people. But it can also distract me from the actual people in the room with constant notifications.
I want to remember the limitations of social media and make sure it doesn't usurp time and energy I could put toward developing real-life relationships.
I'm trying a few things, thanks in part to suggestions from Facebook friends.
Keeping a short list of people I want to connect with on social media and checking their feeds directly instead of scrolling randomly.
Connecting with social media friends offline through email or text or a phone call.
Limiting my time on Facebook to Saturday mornings and occasional 10-minute afternoon check-ins with my groups and short list.
Muting people who repost antagonistic political or divisive racial material.
Paying attention to how I feel when I'm on social media. If I start to feel anxious or overwhelmed, I get off immediately.
Using the Do Not Disturb function on my phone more when I'm with people or at the end of the day. This way my texts don't continually interrupt real life. And I can still get emergency calls from designated numbers.
By taking the apps off my phone, I now have to pull out my laptop and log on to a specific social media account in order to use it. Those extra steps serve as a pause button for me. Do I really need to dive into social media right now? Why?
Second, how do my posts on social media reflect what I value most?
I love words. I love God. I love connecting with people and building relationships.
Does my social media activity reflect those loves?
I've spent the month of September doing a study, written by my friend Sharla Fritz: Bless These Lips: 40 Days of Spiritual Renewal. It challenges me to go back to the Bible and really think about what God says about words. (And I love Sharla's practical suggestions and sense of humor.) The book includes eight chapters, each of which includes one verse from the Bible to memorize. Having these verses roll around in my brain has helped me so much as I evaluate my own words on social media. Ephesians 4:29 (NIV) has become one of my favorites:
Do not let any unwholesome talk come out of your mouths, but only what is helpful for building others up according to their needs, that it may benefit those who listen.
Building others up . . . Thinking about what they need not just what I feel like saying . . .
I love this prayer from Sharla's book (page 48). I want to make it a habit to pray this over my Facebook account.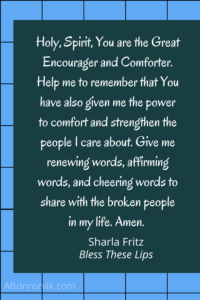 Recently, I discovered reruns of a show I first watched in the 1990s: Touched by an Angel. The show features Monica, Tess, and Andrew, three angels that show up on earth to help people, often as an answer to a desperate prayer. I find that I'm often in tears by the end of each show after watching the angels live out a very simple message that completely changes lives: "God loves you."
Do my words in real life and online convey the love of God?
I don't have all the answers. And I know I'll wrestle with this for some time, certainly throughout election season. But I want to wrestle. I want to approach social media thoughtfully and not let it control me.
I'd love to hear from you and how you navigate social media with integrity these days. Connect with me on email: [email protected].
And let me know (via email) if you'd like to have a copy of Marriage in the Middle: Embracing Midlife Surprises, Challenges, and Joys by Dorothy Littell Greco. I'm giving away one copy.
Book Giveaway
I love that Dorothy Littell Greco has written an honest book about marriage for those of us who've been at it for a few decades. Even a 30+year marriage can (and should) grow.
Is midlife marriage a crisis or an opportunity? It's both. Without a doubt, midlife will shake us to the core. Repeatedly. We will feel incompetent and overwhelmed on a regular basis. But we will also feel empowered and victorious as we overcome obstacles and learn how to do things we've never done before.

Every couple I interviewed faced the challenge and surprise of midlife head on, with their eyes and hearts wide open. They stayed engaged, exhibited resilience and malleability, and moved toward God and each other. They also refused to allow their failures to define them and instead grieved their losses and course corrected. They grew and changed—individually and as a couple. (loc 2699-2706)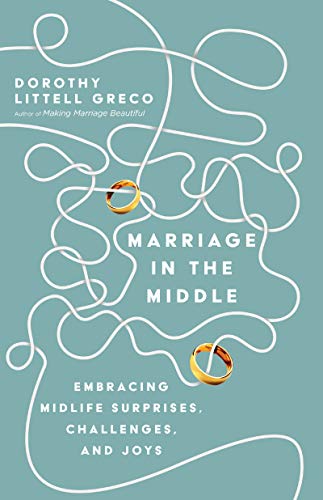 Lots of practical, real-life thinking in this book. And lots of encouragement to keep working at marriage even in mid-life.
I would love to give away one copy of this book. Email me and let me know how you discovered this blog: [email protected]
Cheering you on as your seek to live connected, even in this digital, disgruntled world.
Sign up below to get my blog delivered to your email inbox.